Introducing Autoblogging.ai: The Best AI Article Writer on the Market
Are you looking for a revolutionary way to generate high-quality, SEO-optimized articles with just a few clicks? Look no further! Introducing Autoblogging.ai, the cutting-edge AI-powered content generation tool that promises to transform the way you create content. Launched in July 2022, Autoblogging.ai has swiftly become the go-to choice for over 19,000 users who rely on the platform to produce compelling and unique articles every day.
How Autoblogging.ai Stands Out from the Crowd
While most AI writing tools merely send your keyword to OpenAI in the hopes of generating a decent article, Autoblogging.ai takes a different approach. The platform leverages a proprietary multi-threaded prompt process that uses a mix of OpenAI's GPT 3, 3.5, and 4 models. The result? Detailed, comprehensive, and highly readable articles that consistently meet and exceed expectations.
Modes to Match Your Use-Case: Multiple Generation Modes
Autoblogging.ai offers users a choice of three distinct generation modes to suit their specific needs:
Quick Mode: Ideal for generating articles quickly, this mode allows you to create content with just titles and custom prompts. It also offers bulk generation and auto-posting to WordPress.
Pro Mode: Perfect for listicles and technical articles, Pro Mode lets you generate content using your own outlines and keywords. It's a favorite among professional authors.
Godlike Mode: Experience next-level content generation with Godlike Mode, designed to generate mind-blowing articles that score 75+ on Surferseo, Neuronwriter, and similar tools.
Whether you're a content agency, business, or freelancer, Autoblogging.ai has a mode that's tailored to your unique requirements.
Effortlessly Generate Amazon Product Reviews
Imagine being able to convert any Amazon product URL into an optimized review article in seconds. Autoblogging.ai makes it possible! Simply enter the product URL, and the AI will generate a review designed to help you convert more visitors into buyers. Whether you're an Amazon affiliate or a seller looking to boost sales, Autoblogging.ai has you covered.
Quick And Easy
Makes quick work of a lot of blog posts and articles and has simple features but with amazing results.
Readable, Unique, and Multilingual: The Autoblogging.ai Advantage
The articles generated by Autoblogging.ai are not only highly readable but also 100% unique. While there might be some plagiarism in the case of facts or common phrases, users can rest assured that their content will be original and engaging. Additionally, the platform offers the capability to generate raw AI outputs in 11 different languages, making it a versatile choice for a global audience.
Stay Ahead with Regular Updates
Autoblogging.ai is committed to continuous improvement. The platform rolls out new features on a weekly basis, ensuring that users always have access to the latest and greatest tools. With the fastest feedback-to-implementation cycle in the industry, Autoblogging.ai is always ahead of the curve.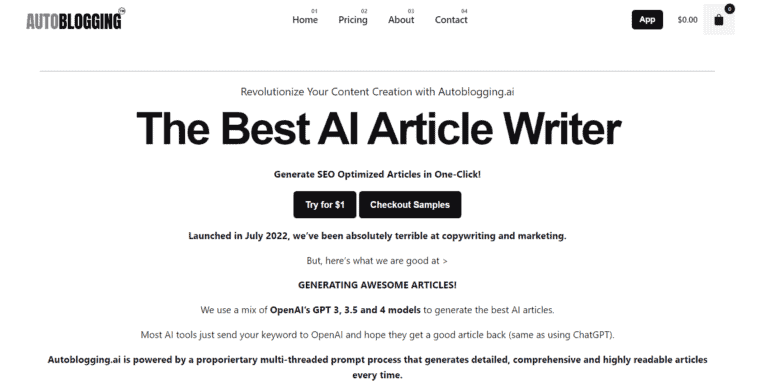 Scalable and Reliable: AI Writing Built for Growth
Autoblogging.ai is more than just a content generation tool—it's a reliable partner that supports your growth. With economical pricing and scalable infrastructure, the platform is built to handle the demands of both small and large-scale operations. Currently, Autoblogging.ai is used by over 18,000 users to write more than 25,000 articles daily, a testament to its reliability and efficiency.
The AI App That's Easy to Use: What to Expect
Autoblogging.ai is designed with user-friendliness in mind. The easy setup process makes it simple for content agencies, businesses, and freelancers to scale up faster and unlock the full potential of AI-powered content writing.
Getting Started with Autoblogging.ai: Quick Setup, Faster Articles!
Ready to revolutionize your content writing? Follow these straightforward steps to get started with Autoblogging.ai:
Subscribe to a Plan: Choose your preferred plan, pay using Paypal, and check out directly on the site. For alternative payment methods, reach out to the Autoblogging.ai team.
Get App Access: Upon payment, you'll receive a redeemable code sent to you instantly.
Start Generating Articles: Redeem the code in the app's dashboard, and you're all set to start generating high-quality, AI-generated articles!
With Autoblogging.ai, content writing will forever be changed for you. Quick setup, faster articles, and endless possibilities await you on this innovative platform.
Final Thoughts: Embrace the Future of Content Creation
In an era where content is king, it's essential to stay ahead of the competition with high-quality, engaging, and unique content that resonates with your audience. Autoblogging.ai offers a state-of-the-art solution that combines the power of OpenAI's advanced language models with user-friendly features and scalable infrastructure. It's the ideal choice for content creators looking to harness the power of AI to enhance their content generation efforts.
As Google Search's helpful content system rewards original and valuable content, Autoblogging.ai's focus on helpful, reliable, people-first content aligns perfectly with the goal of achieving high rankings in search results. The platform's commitment to continuous improvement and regular updates ensures that users have access to the latest AI-powered content generation technology.
Join the growing community of users who have discovered the transformative power of Autoblogging.ai. Try it now for just $1 and experience the future of easy content creation. It's really quite good.