Streamline Your Writing Process
Copy AI is an AI-powered writing assistant designed to reduce writing time by a staggering 80%, freeing up more time to focus on what truly matters. Here's how it works:
Empower Bloggers and Social Media Managers
Copy ai caters to various content creators, including bloggers and social media managers. With its innovative AI content generator, you can effortlessly create:
Optimised blog posts: Craft engaging blog content in a fraction of the time.
Social media posts: Overcome writer's block and grow your audience with captivating social copy.
Platform-specific content: Craft copy tailored for Facebook, YouTube, TikTok, Pinterest, Instagram, and LinkedIn.
Turbocharge Your Email Marketing
Copy AI is also the ultimate AI email writer that enables email marketers to save time, create better content, and scale their email marketing efforts with ease. The platform offers:
High-converting email copy: Resonate with your audience and engage your mailing list using AI-generated email copy.
Inbox-worthy content: Stand out from the crowd with compelling emails that leave readers wanting more.
Tools and templates: Expedite content production using over 90 tools and templates offered by Copy.ai.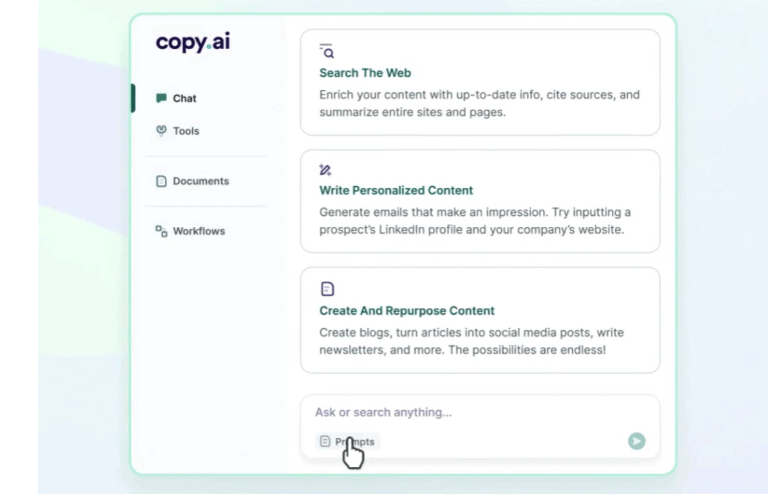 Unlock the Power of AI for Sales and Marketing
Businesses everywhere are harnessing AI to create sales and marketing campaigns that result in faster, more sustainable growth. With Copy AI, you can:
Create personalised sales copy: Make a lasting impression on your audience with tailored copy.
Write long-form posts and pages at scale: Effortlessly produce in-depth articles and web pages without breaking a sweat.
Repurpose content across channels: Adapt your content for various platforms, ensuring maximum reach and impact.
Generate product descriptions: Craft compelling product descriptions that drive conversions and boost sales.
Discover the Limitless Potential of Copy.ai
Copy AI offers an extensive range of copywriting tools to cater to all your content creation needs, including blog posts, product descriptions, and even Instagram captions. The platform continuously updates its offerings, ensuring it remains at the forefront of AI-powered content generation. Check it out and revolutionise the way you create content.
Quick And Easy
Makes quick work of a lot of blog posts and articles and has simple features but with amazing results. Cheaper alternative to Jasper AI for sure.
Unleashing the Benefits of Copy AI for Content Creators
Copy AI revolutionises the way content creators work, providing a multitude of benefits that cater to a diverse range of needs. Here are some of the advantages you'll enjoy when using Copy.ai:
Enhanced Productivity
With its AI-driven platform, Copy.ai accelerates content creation, enabling you to produce high-quality pieces in a fraction of the time it would typically take. This increase in productivity frees up valuable time to focus on other essential aspects of your projects, such as strategising and engaging with your audience.
Consistent Quality
Copy AI utilises advanced AI algorithms to generate content that is not only well-structured and informative but also engaging and captivating. By maintaining a high level of quality across all your content, you ensure that your brand messaging remains consistent and leaves a lasting impression on your audience.
Improved Creativity
The AI-generated content from Copy AI can serve as a springboard for your creative ideas. By providing you with a solid foundation, you can effortlessly build upon and enhance the generated content to create something truly unique and engaging. The platform also helps in overcoming writer's block, enabling you to continue creating without hindrance.
Cross-Platform Versatility
Copy AI caters to a wide range of platforms, including social media, email marketing, and blogs. This versatility allows you to create platform-specific content that resonates with your target audience, ensuring maximum reach and impact. With Copy.ai, you can effortlessly adapt and repurpose your content to suit each platform's unique requirements.
Cost-Effective Solution
By streamlining the content creation process, Copy AI reduces the need for hiring additional copywriters or content creators, saving your business time and money. The platform's affordable pricing ensures that you get maximum value for your investment, making it an ideal solution for businesses of all sizes.
H2: Scalability for Growth
As your content needs grow, Copy AI can easily keep up with the increased demand, allowing you to scale your content creation efforts effortlessly. The platform's AI algorithms ensure that your content remains consistent and of high quality, regardless of the volume of work you require.
Harness the Power of AI for Content Creation
The benefits of using Copy AI for content creation are clear – enhanced productivity, consistent quality, improved creativity, cross-platform versatility, cost-effectiveness, and scalability for growth.