Data has become the lifeblood of decision-making, communicating complex data clearly and effectively has become an essential skill. This is where Storyd.ai steps into the spotlight. Founded by Zack and Michael, who have been successful business partners since 2004, Storyd.ai is a product from Data Advantage, their latest venture. Storyd.ai is an artificial intelligence (AI)-powered tool designed to create compelling data presentations in a matter of seconds
Best Features
AI-Powered Script and Design
Storyd.ai simplifies the presentation creation process into three easy steps. You write a few sentences about your presentation, then watch as Storyd.ai creates your presentation in 60 seconds. The result is a professional deck ready to be exported to PowerPoint and wow your audience.
Story Starters
When time is of the essence or inspiration is in short supply, Storyd.ai has you covered. The platform boasts over 500 pre-written business data storytelling presentations. You can browse these Story Starters by industry or department, find relevant ideas, and customize any starter to your unique situation.
Professional Slides
With Storyd.ai, design assistance is never a problem. The platform allows you to see a visual preview of each slide and set a theme, font, and colour. You can upload an existing deck for Storyd.ai to extract your organizational theme & font, or you can set your own choices for these design elements. Plus, there are hundreds of layout options, each fully optimized for data storytelling.
Benefits
Storyd.ai offers a wealth of benefits to anyone looking to elevate their data presentation game:
Efficiency: AI-powered design and scripting save significant time and effort, enabling you to create presentations in mere seconds.
Creativity: With Story Starters and an AI script generator, you're never short of inspiration. You can brainstorm more content ideas or switch storytelling approaches as needed.
Versatility: The platform offers a broad range of layout options and customizable design elements, allowing for a high degree of personalisation.
Accessibility: Storyd.ai provides a free limited beta version for anyone wanting to write, design, and deliver data presentations. More advanced features are available in the Pro version, which costs $18 per month and includes benefits like unlimited PowerPoint exports, team collaboration, real-time editing, and editable PowerPoint charts.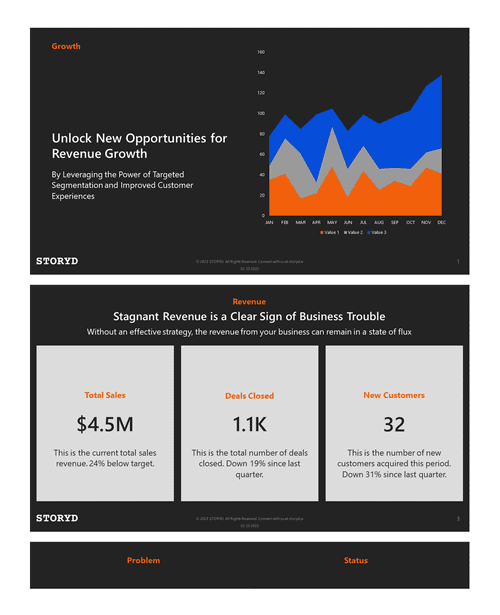 Why Storyd.ai?
Storyd.ai stands out from competitors by offering a unique blend of AI technology, user-friendly design, and a wealth of pre-written content. This combination allows you to communicate clearly with data and create presentations that truly assist in critical decision-making. Furthermore, Storyd.ai's founders have a proven track record of creating successful businesses, reflecting a dedication to innovation and customer service that shines through in their product.
Reviewer Summary
In conclusion, Storyd.ai is a robust, AI-powered solution for creating effective and compelling data presentations. Its broad range of features, from AI scripting to Story Starters, coupled with a user-friendly design, make it an excellent tool for professionals across industries. The platform's commitment to helping users communicate clearly with data is apparent in every aspect of its design and functionality. Whether you're a business professional looking to improve your data storytelling skills, a team seeking superior data presentation capabilities, or a company requiring high-quality AI presentations, Storyd.ai is well worth your consideration.